Summer's End in Cottage Country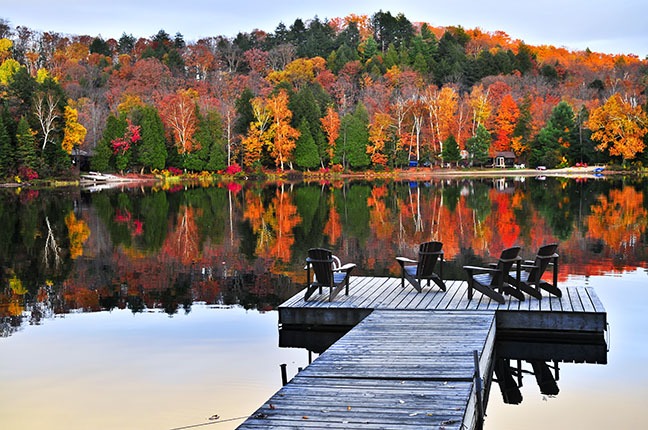 Summer's End in Cottage Country
Whether used year-round or exclusively in the warmer seasons, the start of fall and the onset of cooler temperatures means that cottagers everywhere will begin their preparations for winter!  As we get started on these necessary chores to prepare our cottage before the snow flies, the following are a few important tasks that should be included on the 'to do' list to help reduce the chance of damage to your property!
Heating
As the temperatures start to drop, be sure to carefully check your heating system before activating it, especially if it has not been used this year. To avoid an unexpected fire, baseboard heaters in particular should be clear from furniture, window coverings and other items that might have collected nearby over the summer. If you are going to make use of a small plug-in space heater, first check your electrical system to be sure it can handle the draw.  Then, be very careful with its placement, and while it is on, never leave it unattended.
Woodstoves and fireplaces are beautiful ways of warming your cottage during the colder weather. Again, if you haven't used either since last winter or early spring, take a moment to check the unit/fireplace and make sure it is clean and ready for use. Inspect the chimney stack for damage or loosening of any support straps and/or buildup of creosote, check your fire extinguishers, clear any ashes and remove any flammables from the surrounding area. Click here for more tips on the safe use of your woodstove or fireplace!
Water
If your cottage is used only in the warmer seasons, and you turn off all power and board it up for the winter, then much of your activities on closing weekend will be all about your water system! The water pump should be shut off and all plumbing systems and appliances should be drained completely of their water. By draining your system and all connected appliances, freezing damage is avoided and the process of turning the water on next spring is much easier (and dryer!).
For year-round cottagers, it is important that your water lines be protected from the elements and that your cottage maintains a minimum level of heat throughout the winter to prevent freezing temperatures inside. No two insurance policies are alike, but many Insurers still include a 'freezing exclusion'.  We recommend that you confirm with your own insurance provider/agent/broker what exclusions exist on your own policy. Typically, if the temperature in your cottage falls below the level which would be sufficient to maintain reasonable heat, some policies will not respond to claims arising from the resultant freezing of the water pipes.  An unexpected power failure or furnace breakdown during your absence might cause considerable water damage, which may not be insured.  Some Insurers remove the 'freezing' exclusion if you install a monitored low-temperature alarm, and others if the owner takes 'reasonable steps' to ensure that the heating is operating properly while away from the property or coordinate regular visits by a reliable person. Regardless, year-round cottagers should speak with their broker/agent to review this exclusion as it relates to their policy.
Roofs
Eaves troughs and roofs should be cleared to allow for easy drainage of water and winter debris away from the roof and away from the cottage footings or foundations. While checking the roof before leaving, ensure that there are no areas at obvious risk of ice damming and that large overhanging branches are removed. Consideration should be given to hiring a contractor to clear snow off the roof throughout the winter, as heavy snow does put extensive strain on the roof and some insurance policies may not respond to collapse due to weight of snow or ice. Again, please review with your broker to be certain that your policy includes this important coverage.
Whether closing up for the season, or simply preparing for the cold, we wish all cottagers a fantastic Canadian winter ahead!