6 Tips for a Successful Cottage Opening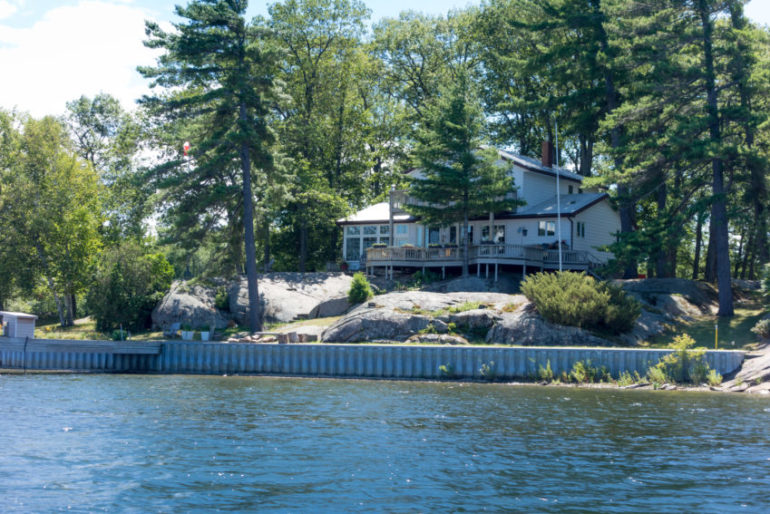 You've taken your bicycle out of storage. You've tried on your swimsuit to make sure it still fits. You've stocked up on the sunscreen and the bug repellent. The first long weekend of the summer is around the corner and you're ready for the cottage– but is your cottage ready for you? Even if you were diligent about closing up shop for the winter, there are still a few key pieces of your home away from home that will need a little check up before you kick off the season.
Eavestroughs and WaterFlow
Over the winter, debris such as leaves and other natural matter can build up, blocking the eavestroughs and inhibiting the flow of water away from your cottage– this may cause water to enter your cottage if not dealt with. Clear any obstructions from the gutter, and if you are able to do so safely, from the entire roof as well. Soil erosion may also have occurred over the off-season. Take a walk around your property to ensure that there are no new pathways for water to flow towards your cottage and that no water is pooling near the foundation or supports.
Natural Debris and Pests
The cold season will have likely left branches, leaves and other debris scattered around your property; this should be cleared away when reopening your cottage. After a particularly stormy winter, you may return to your cottage to find trees that have fallen or appear to be susceptible to falling. If this is the case it may be wise to have an arborist visit your property to inspect and advise you on how to safely remove the tree. Small animals and insects may have taken refuge inside your home while you were away–keep an eye out for signs of unwelcome guests such as droppings, evidence of chewing, or burrows that lead underneath your house. If you continue to observe these signs and common solutions such as traps and pesticides have not yielded any results, call call a local exterminator for professional assistance.
Septic Systems
Though a septic system presents a minimal risk of backing up into your cottage when compared to a municipal system, it is still important to have your system inspected and pumped every 2-3 years. This regular maintenance of your septic systems prevents potential damage to your property and is also critical to reducing the chance of polluting the local ecosystems and impacting the quality of your lake water. For more information on septic systems, visit FOCA's website.
Fireplaces and Woodstoves
May long weekends in Ontario don't always feel like summer, and we might have to make use of our woodstove or fireplace to get us through the first few weekends at the cottage. Before you ignite any sparks, ensure that your home is equipped with a full fire extinguisher and fire handing tools, such as pokers and fireproof gloves. Check the stovepipe for any damage such as rust or shifting. Remove all coverings from your stove/ fireplace and check the chimney and flue for blockages. Lighting a small test fire will reveal any additional obstructions in the chimney. Remember that even at the cottage, regular chimney cleanings are a critical safety measure. Visit our Woodstove Safety post to learn more.
Boats
Spring boating requires extra caution as certain hazards, such as floating debris in the water or even ice, if the weather is still on the colder side, may be unexpected obstacles in your path. Be wary of these before you take your boat out, especially if it is relatively early in the season. Perform an inspection on your tanks and fuel lines, and ensure that your craft is supplied with all the necessary safety equipment (see the Transport Canada Safe Boating Guide, page 16). Finally, make sure that you have a valid Pleasure Craft Operator Card on your person or in the boat every time you use it.
The Drive
As you prepare for your first weekend away at the cottage, remember that a higher level of patience may be required for the trek. The excitement of 'getting away' for the long weekend is often challenged by the considerable traffic jams as thousands of people head to and from their holiday destinations. Plan for longer travel times, pack the car with your belongings beforehand and avoid overloading. Ensure that any roof or trunk racks, as well as the items attached to them, are properly secured. If you are towing a trailer, be aware of your blind spots and test its lights before you leave. Always drive as safely and distraction-free as possible and avoid texting while behind the wheel. On arrival, breathe in the fresh air, and enjoy your piece of paradise!